BELCHER CASTLE - "THE CASTLE"
LOUISIANA CASTLE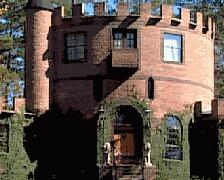 I received E-Mail that said:
There is a castle located in Franklinton, Louisiana on Hwy 10. Mark Belcher was the owner. I think he sold it because it is now being used as a place to hold weddings, bridal showers, etc.
That same day, I received E-Mail that said:
Hi, I'm from Louisiana. My mother Evelyn Brumfield makes wedding cakes and just recently, someone wanted one that looked like a castle because the reception was to be held at a castle. While surfing the web to get ideas on how to make the cake look, she ran across your webpage and noticed your "unknown castle" that someone thinks is near Hattiesburg, MS. Well, it just so happens that that is the very castle that we set the cake up at.
The castle is located on Louisiana Hwy. 10 near the city limits of Franklinton. The castle was built maybe 10 years ago by a young physical therapist and his wife. They lived there for about 4-5 years before moving to Hattiesburg, MS. It stayed on the market for quite a while, but finally sold for either 1/4 of 1/2 million- I know that's a huge difference, but I just can't remember. A couple from Covington or New Orleans bought it and added a reception room to it. It was just recently opened for business.
Then I received E-Mail that said:
The Belcher Castle was built over a period of 15 years in the town of Franklinton Louisiana (about 60 miles North of New Orleans) by a Dr. Mark Belcher. After seeing the movie "War Lord" back in 1971 young Mark Belcher was inspired and decided right then he would build a castle. He finally finished the Castle in 1991. It is a Norman Keep design borrowing a few concepts from the Castle Coch in Wales and even Windsor Castle.
Dr. Belcher sold the Castle to us in July of 1999. We added parking, a 2,600 sq ft ballroom, 3 bathrooms, lots of outdoor decking, a jacuzzi, and continued to improve the Castle grounds. In January we opened "The Castle" a special events fascility catering to weddings, receptions, Mardi Gras Balls and other fantasy events. In October we will open a "Haunted Castle" for several weeks. You can see more about our Castle at http://www.louisianacastle.com.
Bob Hannaford- owner
Back to "Castles of the United States"