EAVES CASTLE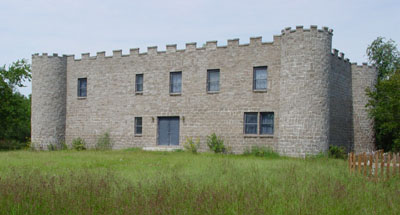 I received E-Mail that said:
This Castle belongs to Kenneth and Amie Eaves. It is a relatively young castle, built in 1996, and is almost 6000sq/ft. It has a three car garage and a full racquetball court in the basement. With very little land, it sits nicely on 15 acres nestled amid 100 different trees on the property. With time, this little castle will be transformed into a much grandeur scale; complete with a courtyard and four additional towers.
The Castle is located at:
11412 SW 125th St.
Sedgwick, Kansas
67135
On 1-16-11, I received e-mail that said:
The castle is for sale again, listed at $84,900. It's been vandalized, I don't believe that anyone has lived in it for the past 3-4 years. Would love to find someone to buy the property and restore it to the beauty it was before.
http://www.realtor.com/realestateandhomes-detail/11412-Southwest-125th_Sedgwick_KS_67135_M82546-54382
CASTLEFINDER NOTE!! Wow, that seems like a very good price for a castle. I sure hope someone buys it and gives it the care it needs.
On 4-4-15, I received e-mail that said:
The Eaves castle in Sedgwick KS is remodeled and someone is living there now.
CASTLEFINDER NOTE!! I am pleased to hear that someone is now taking care of this castle.
Back to "Castles of the United States"

Thanks to Kenneth Eaves for sending the photo and information.