CASTLE DOUGLAS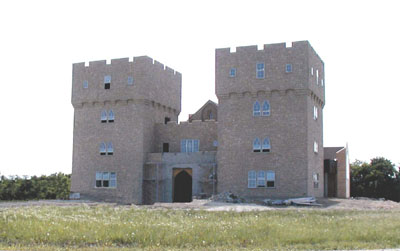 I received E-Mail that said:
The Metropolitan section of the Dallas Morning News on Friday, May 16, 2003 shows a new castle being built on the rural dead-end Clem Road Extension in Rockwall County, TX. It will have more than 23,000 Sq. Ft. of air-conditioned space, plus 1500 feet of roofed terraces. Very impressive! Thought you'd like to add it to your page. The owners are John and Charlotte Dumford. He is a Dallas lawyer.
Later, I received E-Mail from the owner that said:
The name of the castle is Castle Douglas, in memory of my mother, Bernadyne Douglas Dumford, who died without warning on April 6, 1998 at the age of 55. In the wake of her death, we (my father, myself, and my wife...my wife and I are both only children) grasped at the idea of building a castle...an idea my wife and I had both independently nurtured since adolescence....we met in a King Arthur seminar at Baylor University in 1988 and we have been married since 1989...14 years as of this writing.
So. We searched for a site, and 71 acres in Rockwall County found us...before it was ever on the market. My wife and her family have lived in Rockwall County (the smallest county in Texas) since just after the Civil War or thereabouts on both sides, and we had friends and relatives among the real estate community who knew what we were seeking. In case you don't know (and why should you) Rockwall is about 28 miles east of downtown Dallas and is the fastest-growing county in the United States. The acreage was completely undeveloped and had not been cleared. Thus, it was perfect for what we had in mind. That was more than five years ago.
Currently, Castle Douglas (also the name of a town in Scotland near where the Douglas Clan flourished) is mostly finished on the outside and progressing on the inside. We anticipate completion in January 2004, and we are pre-booking for weddings and personalized events right now. Once finished, we plan to host weddings and personalized events for brides and others from the Rockwall community and beyond.
Sometimes friends literally drop in via helicopter.
To send E-Mail to Castle Douglas:
castlekeepers@msn.com
Go here to visit the "Castle Douglas" website.
Castlefinder note - Nice castle.
Back to "Castles of the United States"

A special thanks to John Dumford for sending the photo.